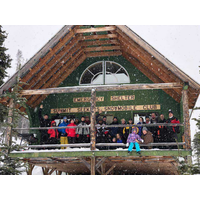 BC wildfires take a toll on our Snowmobile Club!
This past January we celebrated the 20th anniversary of our Emergency Shelter on Placer Mountain. On the evening of August 16th we received a call from Tim Bennett, from the Forestry office in Merritt, informing us that our cabin was being threatened by the Cool Creek fire. On the 20th Tim told us that the cabin was still standing, that there was hope the winds would shift east, and that efforts were being made to protect the cabin. Unfortunately the winds shifted west and our beloved Emergency shelter was consumed by the wildfire.
After two years of preparation, working with Forestry, and up to 25 club volunteers the shelter was completed in 1997. The original location was supposed to be near the towers, but at the last minute the location changed to where it is now. The building materials were initially dropped in the original location, then helicoptered again close to the new location. From this point an ATV was required to move the material to the building site. Our club members dedicated many hours, days and weeks of their time to the making this a reality. This was the location of many club events, such as club rides, BC Lion's Society snowarama, poker runs and fun days. This shelter was also enjoyed by local hunters, hikers, campers, ATV riders, and other snowmobilers.
A number of people have reached out to us about how much they appreciated the shelter, what it meant to them, and have forwarded their pictures or comments. Some have volunteered to help re-build in the future. It is wonderful to hear these heartfelt stories and memories at this time of loss.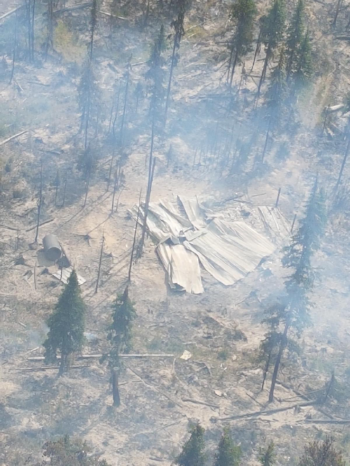 Summit Seekers Snowmobile Club have been around for 45 years with many dedicated members. We are saddened by the loss of our emergency shelter. We are committed to working with Forestry and other organizations to scope out our options later this year. This new project, like the original construction of this emergency shelter, will bring the club closer, as members, family, friends, and other interested parties come together. As a team, cooperation, comradery, and a pooling of skills will once again create a new shelter accessible to all for many more years to come.
Cori Beck,
President
And the SSSC Executive team
---