WHAT DO YOU HOPE THE FUTURE OF SLEDDING LOOKS LIKE?
When I began snowmobiling in my early twenties, it was for me. For fun. For fresh air and freedom with good friends. It became rapidly apparent that there was more at work behind the scenes managing riding opportunities in my community, so I attended a snowmobile club meeting to learn more. Ten rewarding years of volunteering and one feisty toddler later, I now ride for him.
Despite the competing priorities of being a working sled mom with her head under more than a few hats, or helmets, I keep riding and stay involved because I want to leave building blocks for the next generation to not only enjoy what we have, but to take sledding farther. It is my wish that we can resolve land access, compliance, and motorized recreation stigma issues now so that our kids don't have to carry that burden. To ensure the next generation can look back at photos and laugh at our hair, monosuits, and 850 turbos (as they ride their electric sleds of course) and say 'thanks for leaving us something great'. That in a world so divided, our kids can find the camaraderie of a common shared interest with others and know the great privilege and rewards that come with being an outdoorsman. That through the years, they have adventures so big, nobody makes it home before bedtime.
As we all get a little older, and seek a path forward for our growing families, I reached out to a few sled friends to hear their wishes for the next generation of little rippers…
~Nicole Matei
   BCSF Program & Marketing Coordinator
---
Brent Tardiff
(Cranbrook Snowmobile Club)
To me I think it is important to not only introduce and teach the next generation how to sled and what is most enjoyable about it, but to also make sure they know and understand what we have to enjoy as a sport and the areas we sled are not to be taken for granted. My parents taught me to most of all have fun but be respectful of the mountains and the terrain you ride, and now i am sharing that passion and knowledge with my kids and I hope they do the same down the road. This also applies to introducing new riders to the sport or getting someone out that hasn't ridden in years. The more people to share this amazing sport with the less you have to dig out sleds!!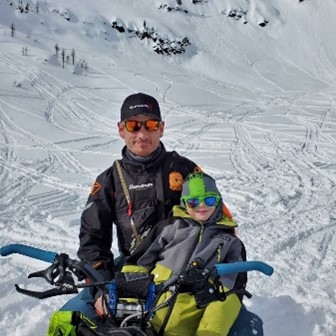 AJ McGrath 
(Windermere Valley Snowmobile Society)
Dear baby Girl - We have so many wishes for you, and the biggest one being that you fall in love with sledding as much as we did.  We hope that you get to see all the beautiful glaciers and epic mountain tops.  That you make lifelong friendships like we did and that the back-country community is still just as friendly that it's the only time it's okay talk to strangers.  While writing this the females in the sled world are kicking butt and making it not a male dominated sport, I hope this continues so that you'll have every opportunity to excel.  Most importantly, we wish that you remember to always have fun and stay humble.  Chase fresh snow not boys!

~Mom & Dad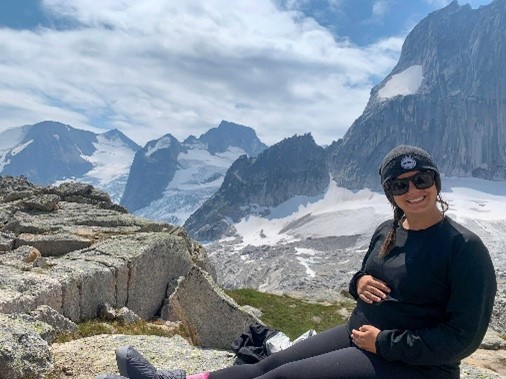 Chantal von Rotz
(Windermere Valley Snowmobile Society)
To me, being a sled mom is showing my little on the pure freedom that you feel in the mountains and also teaching them to respect the mountains and the dangers that come with high altitude adventures. My wish for the next generation of mini sledders is simply that they still have terrain to ride when they grow up so they can feel the same exhilaration and freedom that we get to experience.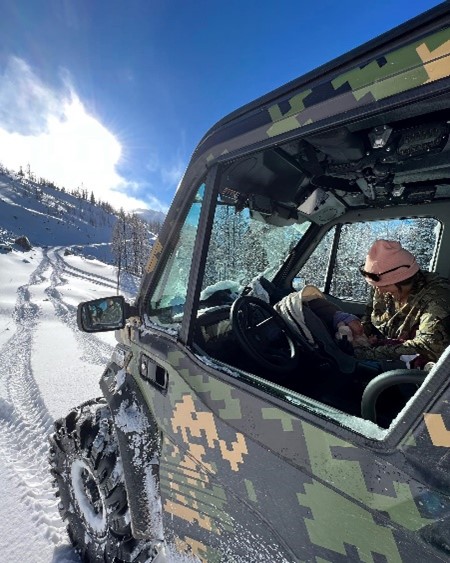 Rob Alford
(Revelstoke Snowmobile Club)
In the future, my hope is that we will still be able to go into the mountains and that my boy Bronson will enjoy the backcountry like we do now! 
(click HERE to see a video of Bronson's First Ride)
Justin Boehm
(Fernie Snowmobile Association)
Hands down my wish for my son is that he does not have to fight to maintain access to recreate on public land. That sledding stays fun for him. I think the best way to do this is to get him involved and fuel his passion from a young age. He has already been out volunteering at the trailhead kiosk, firewood work parties, even grooming… we are trying to get him involved in age-appropriate ways from day one. It's incredible that despite our family being so far away, our little guy has acquired a whole team of adopted grandpas and uncles in our little sled community to help instill our shared values and sense of wonder for the outdoors. Most people search their who lives for a great riding buddy, I'm raising mine.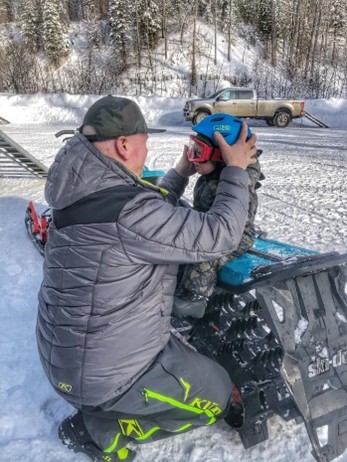 Kyra Casorso
(Hunters Range Snowmobile Association)
I have two daughters, 8 and 5 years old, that have been riding since they were two. We take them up to the cabin and love that they can join in on our adventures. My wish for their future is that we do a good enough job now keeping relationships strong with governing bodies and promoting the sport that we continue to have strength in numbers and keep our areas open. By doing our due diligence and sticking together, we can secure the future of sledding for our kids. It's one of the reasons we became involved with the local club!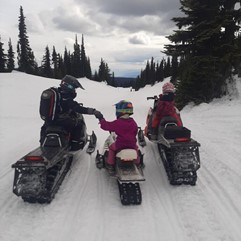 Julie-Ann Chapman
(Nelson Sno-Goers)
Here are three main concerns/hopes I would love addressed to secure the chances of my kiddo Jax to enjoy snowmobiling as much as I have when he grows up. 
I'm hoping insurance companies will be more supportive with offering liability insurance to commercial operators to teach and take out minors. This will allow snowmobile commercial operators to offer more educational programs for minors. 
I hope that recreational snowmobile lobbyists keep growing and having a stronger say in land issues such as closures. This will help guarantee lands for our children to recreate in as they grow older. 
I'm hoping the government allocates time and budget towards enforcing a "best practices" agreement between commercial operators (cat ski/heli ski operators) & recreational snowmobile lobbyists instead of slapping recreationalists with say a prohibition 9 (banning all sledders in their operating areas).